Planning the Build




May 1 2007 - Initial Concept

I've come up with the idea of building a kit car. I can't remember why, perhaps I dreamt it. We love bikes, so the concept is a bike engined car - very lightweight, very stripped out, extreme performance. Having chatted to our friends at the motorcycle centre We've decided that nothing less than a Suzuki GSX1300R Hayabusa Engine will do. As standard it has 175bhp and plenty of torque. Its legendary on the drag strips with a vast array of tuning potential including Turbos and Superchargers up to 700bhp+.




May 15 2007 - Turbos & Superchargers

Slowly our ideas of Turbocharging and Supercharging have been smashed. Its easy to imagine that you can do it cheaply, but... no. Engine strenthening for a hayabusa is essential, needing at very least new pistons and con-rods. That's £3000 before you've even done any tuning! Turbos and Superchargers are then around £3500 to £4500 for a basic kit with the more powerful ones going to £15,000 plus. Absolutely crazy. So, we've decided to go with a standard car. Looking in Evo magazine, the fastest car around their track is a Radical SR3 which uses a normal Hayabusa. Its faster than a Ferarri Enzo, so i think it might be fast enough for us! Obviously the Radical will be faster because of its aerodynamics, but engine wise its the same.




June 2 2007 - Total Kit Car Live! Brands Hatch

We rode along to Brands Hatch to get some information and have some rides. I managed to go around in 2 cars:

Dax Rush MC Turbo. Oh my god this is fast, running around 300bhp, it took off leaving the pit lane, went sideways on every corner, and bottomed out on the long straight! The speedo didn't work, so I have no idea how fast we went, but i was shaking. All other cars literally disappeared so fast it was funny.

MK Sports Cars Indy. This was a fireblade engine producing around 100bhp. Once on the track it was fun, albeit a little slow. Pulling away it was gutless and really strained. I think we need more engine than this. Great value for a build of £7500 though!




June 10 2007 - Final Decision of Car

Lots of research and phone calls over the last few weeks and i've finally made up my mind. Summary of the contenders:

DAX These are great cars, but very expensive. As one guy told us "They're Westfield money". A major downside here is the suspension - They don't offer proper wishbone independent rear suspension, only a De-Dion unit. Front suspension is either standard or "camber compensated" (i.e. anti-roll). I talked to one owner with standard front suspension who was about to get a new car with camber comp, and then i talked to a driver with camber comp who said its a bit weird and almost unbalances the rear... so nobody's happy. One other owner complained about parts supply... so i'm not feeling too happy here, especially for the money.

MK These are low-cost cars, in other words you have to do more yourself, with a less comprehensive kit. Whilst the basic kit is around £3000, by the time we've added all the stuff we need, we're up into fairly significant money. Instructions total 12 pages, and are very poor! Our aspirations are to have a car that is awesome, right up there on the track leader board - so i just don't think MK are up to the job.

Tiger They really don't seem committed to Bike Engine cars - which is odd because they have the Guiness record for 2 bike engines doing 0-60. He advised me to go for the standard car. I'm a bit disappointed by standard spec, including drum brakes, and struggle to get the right answers from them.

Westfield I wrote to them with 10 questions, including 'why westfield' and he answered everything perfectly, including "because you want the best" (Comically arrogant!). This is an awesome car and i believe offers the best build quality, most polished finish, most comprehensive kit, and best spec for handling and suspension. Very professional documentation, build manual, factory, parts availability. Its all there, so choice pretty much made. Just to sleep on it for a few days and decide which extras to buy!

Click here to see their catalog
June 10 2007 - This is what it should look like - Minus the windscreen!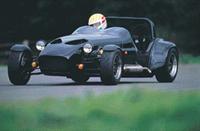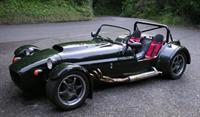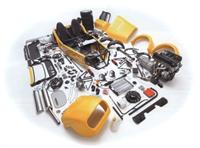 June 20 2007 - Where to Build It?

We decided that a very large garage is essential, a normal one just doesn't give enough space around the car to work. We reckon we'll have it built well within 6 months. After much negotiation we've secured the Garage of James' dad in Cuckfield, Sussex.




June 20 2007 - Placing The Order

After much sweating I placed the order with Westfield Sports Cars. The specification is as follows:


Westfield MegaBusa Comprehensive Kit - in Black


Wider Front Track & Anti-Roll Bar


Rear Anti-Roll Bar


Limited Slip Differential


RAC Specification Braced Roll-Bar


Upgraded Upholstered Seat


3" Four-Point Race Harness Upgrade


Factory Fitting & Sealing Panels


Its due to be delivered on the 30th July. Best get buying engine and wheels then!




June 24 2007 - Engine Hunting

After much discussion about whether to break a running bike or buy an engine, we have decided to buy an engine. Whilst this represents some risk that we'll plumb it in and it just won't start, it is much more cost effective, less hassle, and allows us to buy a 2005/2006 engine with low mileage. Yorkshire Engines have one coming in next week - a 2006 with 4000 miles for £2650. This comes with all sensors, loom, etc. The very helpful Malcolm Curnin has been advising me - contact him at malcurnin@tiscali.co.uk.




June 26 2007 - Which Wheels?

Wheels are important - we don't fancy the dated looking 'minilite' style, and can't afford split rims... so we've decided on Compomotive CXR wheels. They're specifically designed for motorsport (rather than boy racers!) and are very light weight. These are 13" x 7" wide which is tiny by modern standards - but on a car like this will be perfect and less unsprung weight means better cornering. These will be wearing Toyo R888 Road-Legal Track Tyres in 205mm wide by 60% profile. All ordered from performancealloys.co.uk.




June 27 2007 - Other Bits & Pieces

I've ordered a few more bits from Ebay... Not much else to do for the next month!


Gear Indicator and ATRE (Removes Hayabusa speed restrictions)


Battery Cut off Switch


Hayabusa Haynes Manual


"A Car Is Born" DVD


Dremel Tool


Axel Stands - 2 Pairs


Rivet Gun


Torque Wrench
July 11 2007 - Progress Update
The engine has been dispatched and should be delivered tomorrow, its a 2007 with 900 miles and a pre-fitted dry sump kit and oil cooler. I'm buying it from JeffC on the WSCC forum.
Because the engine doesn't come with a loom, i've decided to bite the bullet and fit an EMERALD M3D ECU. This is a fantastic unit, highly programmable. It should help get us through the SVA Emissions and also negates the need for a powercommander. It also makes the ATRE that i bought a total waste of time, but at least the gear position indicator should still work (Fingers Crossed).
The Emerald comes with a flying loom, but i still need all the connectors. I'm currently discussing this with dataspares.com who *might* be able to supply them... i'll send them some photos of the connectors tomorrow.
For the paddle-shift gear change, i've been trying to get hold of AB Performance and Stuart Taylor Motorsport, but neither of them answer the phone!
July 16 2007 - The Chassis is Done!
Just received an email from Westfield with pictures of our Chassis... its finished, just awaiting assembly of the rest of the kit. Still 2 weeks to wait...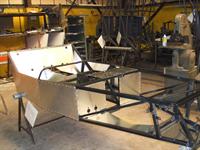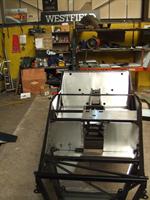 July 20 2007 - Stuff is taking over the office
The corner of the office is slowly filling up. Allsorts of tools, wheels, tyres, electrical bits, jack stands, etc...
Good news is that the connectors i bought from dataspares.com all fit except the Starter Relay and the Atmospheric Air Pressure Sensor. God knows where to get them from!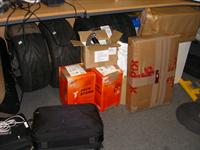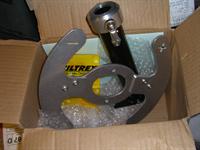 July 21 2007 - How fast will it go?

People keep asking how fast it will go, and it seems the answer is 134.47 as it hits the rev limiter in 6th. This spreadsheet works it all out. I'm sure that's plenty for the track, but if we should feel we need more speed, longer 5th and 6th gears can be fitted to the engine.
July 29 2007 - The Garage is Ready
The garage is all ready for the kit to be picked up tomorrow. All the tools laid out, wheels and engine in one place.
Note our interesting axel stands - we decided that they weren't high enough on their own, so we're using a couple of breeze blocks. Not ideal, but some heavy duty straps make them secure.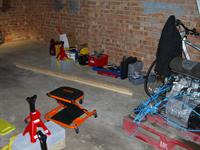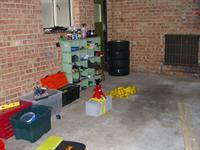 July 30 2007 - Picking up the Kit
We hit the road at 6am, aiming to be at the factory by 9am. We arrived at 9:15 having suffered very few traffic problems. As you can see by the photos, we had a good look around the factory, including having a good nosey inside a Megabusa!
Our car was waiting on a stand to be loaded into the van. The guys were great, they went through everything in detail and loaded the van up for us. Unfortunately a few items were missing from the kit, and they'll be forwarded on in due course - nothing that will hold us up in the early stages.
Initially we're really impressed with the quality of the kit, far better than all the other kits we'd seen during the research. The powder-coated chasssis is immaculate with really nice welding, and the piano-black body looks fantastic.
We set off back, and got to work unpacking...